Faculty Research & Honors
---
Selected Books by Cornell Faculty
(Oxford University Press, 2009)

by Glenn C. Altschuler, American Studies, and Stuart M. Blumin, History (emeritus)

(Sterling, 2008)

by James F. Bell, Astronomy

(Foundation Press, 2009)

by John H. Blume, Law, (with Jordon M. Steiker)

(Palgrave MacMillan, 2008)

by Lawrence E. Blume, ed., Economics, (with Steven Durlauf)

(Manchester University Press, 2008)

by Stuart M. Blumin, History (emeritus)

(Springer, 2008)

by David L. Brown and Nina Glasgow, Development Sociology

(Duke University Press, 2008)

by Carole Boyce Davies, Africana Studies and Research Center

(Oxford University Press, 2009)

by Stephen J. Ceci and Wendy M. Williams, Human Development

(Oxford University Press, 2008)

by Shimon J. Edelman, Psychology

(Princeton University Press, 2009)

by Ronald G. Ehrenberg, Industrial and Labor Relations, (with Harriet Zuckerman, Jeffrey A. Groen, and Sharon M. Brucker)

(Oxford University Press, 2009)

by Michael S. Fontaine, Classics

(University of Pittsburgh Press, 2008)

by Jeremy Foster, Landscape Architecture

(Basic Books, 2009)

by Robert H. Frank, Johnson Graduate School of Management

(Norton, 2008)

by Alice Fulton, English

(Norton, 2008)

by J. Ellen Gainor, ed., Theatre, Film, and Dance, (with Stanton Garner and Martin Puchner)

(University of Toronto Press, 2009)

by Andrew S. Galloway, ed., English, (with R. F. Yeager)

(Wiley, 2007)

by Susheng Gan, ed., Horticulture

(Oxford University Press, 2009)

by Stephen P. Garvey, ed., Law, (with Paul Robinson and Kimberly Ferzan)

(Prometheus, 2007)

by Valerie Hans, Law, (with Neil Vidmar)

(Russell Sage Foundation, 2008)

by David R. Harris, ed., Sociology (with Ann Chih Lin)

(University of Calgary Press, 2009)

by Karim-Aly S. Kassam, Natural Resources

(Routledge, 2009)

by Peter J. Katzenstein, ed., Government

(Cornell University Press, 2009)

by Dominick C. LaCapra, History/Comparative Literature

(Oxford University Press, 2009)

by Mitchel Lasser, Law

(Graywolf Press, 2009)

by J. Robert Lennon, English

(Harvard University Press, 2009)

by Fredrik Logevall, History, (with Campbell Craig)

(University of Chicago Press, 2008)

by Michael E. Lynch, Science and Technology Studies, (with Simon A. Cole, Ruth McNally, and Kathleen Jordan)

(University of Notre Dame Press, 2009)

by Kenneth A. McClane, English

(Broadstone Books, 2009)

by Robert R. Morgan, English

(University of Minnesota Press, 2008)

by Timothy C. Murray, English

(Oxford University Press, 2008)

by Jens David Ohlin, Law, (with George P. Fletcher)

(Cambridge University Press, 2009)

by Thomas B. Pepinsky, Government

(MIT Press, 2008)

by Trevor J. Pinch, Science and Technology Studies and Richard Swedberg, Sociology, (eds.)

(University of Pennsylvania Press, 2009)

by David S. Powers, Near Eastern Studies

(Ohio State Press, 2009)

by Masha Raskolnikov, English

(Cornell University Press, 2009)

by Éric Rebillard, Classics

(Oxford University Press, 2009)

by Jeffrey S. Rusten, ed., Classics

(Northwestern University Press, 2009)

by Gavriel Shapiro, Russian

(Wiley, 2008)

by Daniel R. Schwarz, English

(Springer, 2008)

by Anthony Shelton, ed., Entomology (with Jörg Romeis and George G. Kennedy)

(Princeton University Press, 2009)

by Steven H. Shiffrin, Law

(University Press of Kansas, 2009)

by Joel H. Silbey, History (emeritus)

(Jossey-Bass, 2008)

by Tony L. Simons, Hotel Administration

(Simon and Schuster, 2009)

by Barry S. Strauss, History

(Princeton University Press, 2009)

by Steven H. Strogatz, Mechanical and Aerospace Engineering

(Stanford University Press, 2009)

by Eric Tagliacozzo, ed., History

(Oxford University Press, 2009)

by Chantal Thomas, ed., Law, (with Joel P. Trachtman)

(University of Pittsburgh Press, 2009)

by Lyrae Van Clief-Stefanon, English

(University of Illinois Press, 2009)

by Margaret Washington, History

(University of Pennsylvania Press, 2009)

by Mary N. Woods, Architecture, Art, and Planning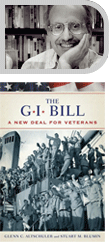 The GI Bill: A New Deal for Veterans
(Oxford University Press, 2009)
---
The authors tell the story of the G.I. Bill and its impact on American life. They show how an unlikely coalition emerged to shape and pass the bill, bringing together New Deal Democrats and conservatives who had opposed Roosevelt's social-welfare agenda. The bill provided for job training, unemployment compensation, housing loans, and tuition assistance, allowing millions of Americans social mobility. The results included a transformation of the modern university.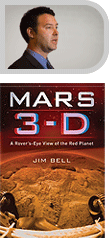 Mars 3-D: A Rover's Eye View of the Red Planet
(Sterling, 2008)
---
The book showcases 120 intriguing 3-D and color images of Mars shot by the two robotic geologists, Spirit and Opportunity, that have been roaming the Red Planet since 2004. Rocks, craters, valleys, and other geologic configurations that define the terrain of Mars bring us as close as we can currently get to setting foot on the planet. The text—compelling and accessible—reveals the thrill of each discovery.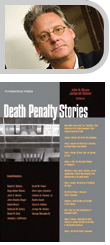 Blume and Steiker's Death Penalty Stories
(Foundation Press, 2009)
---
The authors give detailed accounts of the most important capital cases in American law. They present comprehensive coverage of the canonical cases, such as Furman v. Georgia, Gregg v. Georgia, Penry v. Lynaugh, and others, along with in-depth analysis of cases involving core death penalty issues, including representation, protections for the innocent, and execution methods.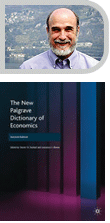 The New Palgrave Dictionary of Economics
(Palgrave MacMillan, 2008)
---
This 7,680-page, eight-volume work, and its new online version, is the first revision of this standard work in 21 years. It has 1,850 articles by more than 1,500 eminent economists, including 25 Nobel Prize winners. The work is the leading reference in the field.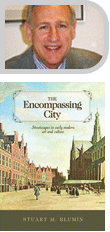 The Encompassing City: Streetscapes in Early Modern Art and Culture
(Manchester University Press, 2008)
---
Blumin examines the history of the streetscape—the view of a city's streets, squares, canals, buildings, and people—a new artistic genre that emerged in the early modern era. He traces earlier forms of urban representation in European art into the growth of the streetscape genre in Italy and the Low Countries during the middle years of the seventeenth century. He explores the genre through the eighteenth century, including its appeal to such artists as Canaletto, Bernardo Bellotto, Francesco Guardi, and Giovanni Battista Pirannesi.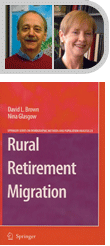 Rural Retirement Migration
(Springer, 2008)
---
This book examines the challenges and opportunities presented by migration at older ages both for successful aging and for community development in the United States. Brown and Glasgow pay particular attention to the process by which older in-migrants become socially integrated into their new communities. They conclude that retirees or older people—sometimes called "grey gold"—who move to rural areas often have a positive impact on local economies, but can also have negative effects, such as driving up housing prices.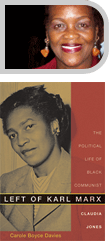 Left of Karl Marx: The Political Life of Black Communist Claudia Jones
(Duke University Press, 2008)
---
Davies examines the activism, writing, and legacy of Claudia Jones (1915–64), an Afro-Caribbean radical intellectual and dedicated communist whose activism expanded Marxism-Leninism to incorporate gender and race. Jones was born in Trinidad, lived in New York for 30 years, and was deported and given asylum by Great Britain after the United States prosecuted her as a communist. Exploring the FBI files on Jones, the author contrasts their record of her life with Jones' own narration. Jones is buried in London's Highgate Cemetery to the left of Karl Marx. The book won the 2008 Letitia Woods Brown Book Award.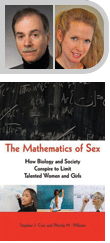 The Mathematics of Sex: How Biology and Society Conspire to Limit Talented Women and Girls
(Oxford University Press, 2009)
---
The authors propose three key explanations for the lack of women in math-intensive careers—innate ability, social and cultural biases, and women's interests. Examining research in endocrinology, economics, sociology, education, genetics, and psychology, they conclude that the imbalance of women in math-oriented fields is due to choices women are compelled to make in our society, and not to sex differences in mathematical and spatial ability or current biases.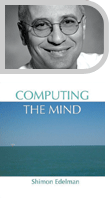 Computing the Mind: How the Mind Works
(Oxford University Press, 2008)
---
Edelman presents a computational account of the entire spectrum of cognitive phenomena that constitutes the mind, beginning with sentience. He identifies computation as the common denominator in the emerging answers to questions such as these: What does it mean to be a mind? How is the mind related to the brain? How are minds shaped by their embodiment and environment? What are the principles behind cognitive functions such as perception, memory, language, thought, and consciousness? The book is accessible, yet unified and rigorous, and supported by evidence ranging from neurobiology to computer science.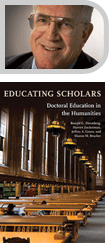 Educating Scholars: Doctoral Education in the Humanities
(Princeton University Press, 2009)
---
In 1991 the Andrew W. Mellon Foundation launched the Graduate Education Initiative (GEI), the largest effort ever undertaken to improve doctoral programs in the humanities and related social sciences. This book reports on GEI's success in reducing attrition and time to degree, the positive changes implemented by specific graduate programs, and the many challenges still to be addressed. This is the only book to focus exclusively on the current state of doctoral education in the humanities.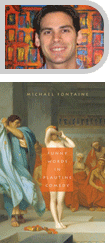 Funny Words in Plautine Comedy
(Oxford University Press, 2009)
---
This examination of the comedies of Plautus, Rome's earliest extant poet, acclaimed by ancient critics for his mastery of language and jokes, shows that many of Plautus' jokes and puns were misunderstood in antiquity, and that with them the names and identities of familiar characters were misconceived. Fontaine also explores Plautine language, style, psychology, coherence of characterization, and irony.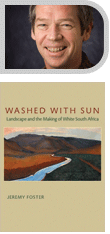 Washed with Sun: Landscape and the Making of White South Africa
(University of Pittsburgh Press, 2008)
---
Foster explores how the influence of painting, travel writing, photography, and architecture helped to construct white national identity in early twentieth century South Africa. He examines how the construction of a shared, romanticized landscape perceived as inseparable from "being South African," helped forge the imagined community of white South Africa. This multidisciplinary study connects South Africa's defining national characteristics—political turmoil and natural beauty—to achieve an innovative history.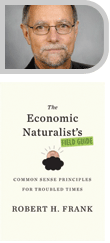 The Economic Naturalist's Field Guide: Common Sense Principles for Troubled Times
(Basic Books, 2009)
---
In this compilation of essays previously published in the New York Times, now thematically grouped, the author discusses large-scale policy decisions on regulation, tax policy, and health care, as well as personal decisions on paying for food and gasoline and even how we choose to love. When confronted with economic choices—and almost every choice people make is economic—self-interest alone does not explain our decisions. The author suggests that context shapes every decision, consistent with human weaknesses, as put forth by models of the emerging field of behavioral economics. The book presents revealing insights about our pocketbooks, policies, and personal happiness.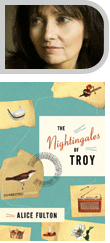 The Nightingales of Troy
(Norton, 2008)
---
Fulton's first work of fiction, a collection of 10 linked short stories, tracks the lives of four generations of women from Troy, New York. The first story in the collection, "Queen Wintergreen," set in 1908, was inspired by the search to know her great grandmother. Subsequent stories are spaced a decade apart. "In Happy Dust" is about a young mother with a wasting disease and about to give birth, who finds relief in a mysterious potion given to her by a fallen nun. In "The Real Eleanor Rigby," a girl infatuated with the Beatles and Herman Melville resolves to give the Beatles a first edition of Typee, but is upstaged by her domineering mother. Reviewers describe the collection as scintillating, surprising, pleasurable, and stealthily affecting.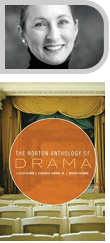 The Norton Anthology of Drama
(Norton, 2008)
---
This is the first major drama anthology in the Norton series. It contains 65 plays, some unavailable in any other drama anthology, by ancient Greek to leading contemporary playwrights. The two-volume work is a comprehensive collection, with each volume providing a 50-page critical introduction for students and general readers, annotated play texts, informative head notes that introduce each play, and illustrations.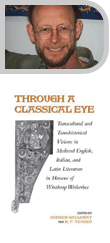 Through a Classical Eye: Transcultural and Transhistorical Visions in Medieval English, Italian, and Latin Literature in Honour of Winthrop Wetherbee
(University of Toronto Press, 2009)
---
This collection of essays demonstrates strategies for studying transcultural and transhistorical works of the late medieval period and examines the overlap of medieval literature and culture in English, Italian, and Latin sources. Winthrop Wetherbee, who the collection honors, made groundbreaking contributions to this area of study. Providing key insight into medieval literature and culture, the book advances Wetherbee's legacy and the field of medieval literary studies.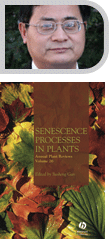 Senescence: Processes in Plants
(Wiley, 2007)
---
The book summarizes recent progress in the physiology, biochemistry, cell biology, molecular biology, genomics, proteomics, and biotechnology of plant senescence, which has a tremendous impact on agriculture. For example, leaf senescence limits crop yield and biomass production and contributes substantially to postharvest loss in vegetable and ornamental crops during transportation and on store shelves. The volume begins with a chapter on terminology and current knowledge of mitotic senescence in plants; later chapters examine the development of new biotechnologies for manipulating the senescence processes of fruit and leaves.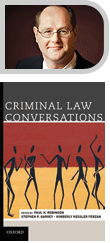 Criminal Law Conversations
(Oxford University Press, 2009)
---
This authoritative overview of contemporary criminal law debates in the United States is a collection of scholarly papers assembled using an innovative, interactive method of nominations and commentary by the nation's top legal scholars. Every leading scholar in the field participated. The book provides insight into the most fundamental and provocative questions in modern criminal law.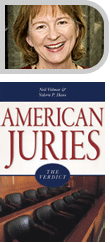 American Juries: The Verdict
(Prometheus, 2007)
---
The authors have produced a comprehensive work that reviews more than 50 years of empirical research on civil and criminal juries. Placing the jury system in its historical and contemporary contexts, the authors give the stories behind important trials and answer critical questions: How do juries make decisions? What roles do jury consultants play in influencing trial outcomes? Can juries understand complex expert testimony? The researchers conclude that, for the most part, the jury system works.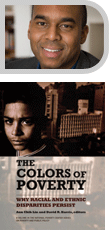 The Colors of Poverty: Why Racial and Ethnic Disparities Persist
(Russell Sage Foundation, 2008)
---
The editors present a collection of articles by a multidisciplinary group of 15 prominent scholars that explore why racial and ethnic differences continue to lead to socioeconomic disadvantage. The analysis uncovers a series of complex mechanisms that connect poverty and race. Articles are categorized under three topics: group identity and group outcomes; nonracial explanations for racial disparities in poverty; and policy, race, and poverty.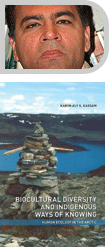 Biocultural Diversity and Indigenous Ways of Knowing: Human Ecology in the Arctic
(University of Calgary Press, 2009)
---
The peoples of the circumpolar arctic figure prominently in issues of biological diversity of life and human cultural diversity. In this empirical and theoretical work, Kassam traces the synthesis between culture and biology, using human ecology as a conceptual and analytical framework. He uses three case studies illustrating how subsistence hunting and gathering remain essential to both cultural diversity and human survival—research done in partnership with indigenous northern communities. The book covers climate change, indigenous knowledge, and the impact of natural resource extraction.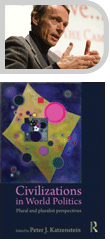 Civilizations in World Politics: Plural and Pluralist Perspectives
(Routledge, 2009)
---
The book examines the cultural dimension of international politics, providing an account of the relevance of cultural categories for analyzing world politics. The existence of plural and pluralist civilizations is reflected in transcivilizational engagements, intercivilizational encounters, and occasionally in civilizational clashes. The book consists of six case studies by experts in their fields. It combines contemporary and historical perspectives, while addressing the civilizational politics of America, Europe, China, Japan, India, and the Islamic Middle East.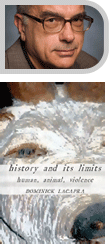 History and Its Limits: Human, Animal, Violence
(Cornell University Press, 2009)
---
LaCapra examines the relations among intellectual history, cultural history, and critical theory, as he investigates the recent rise of "practice theory" and probes the limitations of prevailing forms of humanism and anthropocentrism. He focuses on understanding events and experiences involving violence and victimization, and explores how historians treat and are simultaneously implicated in the traumatic processes they attempt to represent. The book also investigates violence's impact on various types of writing, establishes a distinctive role for critical theory, and questions the long-standing quest for a decisive criterion separating the human from the animal.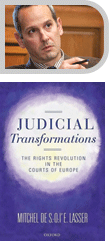 Judicial Transformations: The Rights Revolution in the Courts of Europe
(Oxford University Press, 2009)
---
Lasser tells the story of the rights revolution—an explosion of fundamental rights in all areas of law—in Europe. The book, grounded in comparative law and political science, provides an important contribution to understanding the current dynamics of European judiciaries and the extent of the impact of transnational law on domestic legal culture.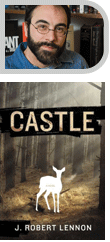 Castle: A Novel
(Graywolf Press, 2009)
---
Lennon's novel about memory, guilt, power, and violence involves a former resident, Eric Loesch, returning to a rural New York town in the winter of 2006. Loesch buys 612 acres in upstate New York, with a dilapidated house. As he begins to renovate the run-down house, he explores the surrounding acreage and discovers a piece of land in the middle of his woods that he does not own. The title to this property has the owner's name blacked out. Thus begins what has been described as a riveting novel, a psychological thriller—chilling, shocking, and terrifying.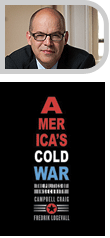 America's Cold War: The Politics of Insecurity
(Harvard University Press, 2009)
---
In this new interpretation of America's Cold War, the authors reexamine its successes and failures. Described as a "creative, carefully researched, and incisive analysis of U.S. strategy," the book scrutinizes the continuation of the Cold War long after the containment of the USSR and asks how this critical phase in international politics began and ended.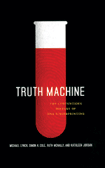 Truth Machine: The Contentious History of DNA Fingerprinting
(University of Chicago Press, 2008)
---
The authors trace the controversial history of DNA fingerprinting—the proclaimed truth machine that can overturn convictions based on eyewitness testimony, confessions, and other forensic evidence—by examining court cases in the United States and United Kingdom from the mid-1980s, when the practice was developed, to the present. They use interviews, observations of courtroom trials and laboratory processes, and documentary reconstruction to provide an original ethnographic account of DNA fingerprinting, also known as DNA profiling, and its evolution. The authors conclude that DNA profiling is not foolproof criminal evidence.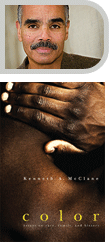 Color: Essays on Race, Family, and History
(University of Notre Dame Press, 2009)
---
In this autobiographical collection of interconnected essays, McClane explores race and life as an African American. He recollects Martin Luther King's visit to his family's cottage in Martha's Vineyard, his experience as the first black student at a prestigious college prep school, his mother's journey to change her racial designation on her birth certificate, his father's quest to gain admission to medical school in the 1930s, his parents' decline due to Alzheimer's, and other memories. The book is described as beautifully written, graceful, and insightful.
October Crossing
(Broadstone Books, 2009)
---
This collection of poetry continues Morgan's exploration and celebration of the culture and curiosities of Appalachia. Reviewers describe the collection as full of "delightful lore" and "exciting, precise knowledge of country things" from the Southern mountains.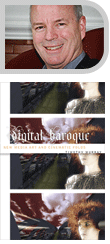 Digital Baroque: New Media Art and Cinematic Folds
(University of Minnesota Press, 2008)
---
Murray explores the relationship between digital, in the form of new media art, and baroque, a highly developed early modern philosophy of art. He makes an unexpected connection between the old and the new, as he analyzes the philosophical paradigms that inform contemporary screen arts. Murray reflects on the rhetorical, emotive, and social forces inherent in the screen arts' dialogue with early modern concepts in a range of art forms, such as digitally oriented films, video installations, and interactive media. The book is described as a work of "tremendous originality."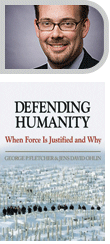 Defending Humanity: When Force Is Justified and Why
(Oxford University Press, 2008)
---
When is war justified? The authors present an innovative theory on the legality of war, with clear guidelines for evaluating interventions. They explore self-defense and preemptive war and trace a persistent misunderstanding of the article in the Charter of the United Nations regarding military force—allowed when authorized by the Security Council or in self-defense. Chapters in the book include analyses of aggressive war, humanitarian intervention, and the "Bush Doctrine" of preventive war.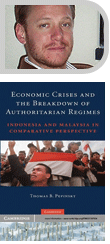 Economic Crises and the Breakdown of Authoritarian Regimes: Indonesia and Malaysia in Comparative Perspective
(Cambridge University Press, 2009)
---
Pepinsky uses the experiences of Indonesia and Malaysia and the analytical tools of open economy macroeconomics to answer the question: Why do some authoritarian regimes fall during financial crises, while others do not? He shows that differences in cross-border asset specificity produce dramatically different outcomes in regimes facing financial crises. Reviews characterize the book as "an outstanding piece of scholarship, with innovative theorizing."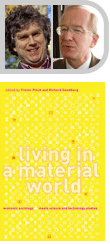 Living in a Material World: Economic Sociology Meets Science and Technology Studies
(MIT Press, 2008)
---
This book links economic sociology to science and technology studies via materiality, suggesting materiality—the idea that social existence involves not only actors and social relations, but also objects—as the theoretical point of convergence. The collection of essays includes topics, such as the materiality of the household in economic history, the stock ticker, the effect of e-commerce on consumption, and the reputation economy represented by online product reviews.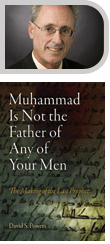 Muhammad Is Not the Father of Any of Your Men: The Making of the Last Prophet
(University of Pennsylvania Press, 2009)
---
The Islamic claim to supersede Judaism and Christianity is embodied in the theological assertion that the office of prophecy is hereditary, but that the line of descent ends with Muhammad, who is the seal, or last, of the prophets. Exploring historical, theological, and familial aspects of Muhammad and the Qur'an and early Islam, Powers contends that a series of radical moves were made in the first two centuries of Islamic history to ensure Muhammad's position as the last prophet.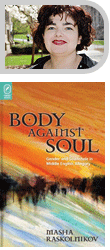 Body against Soul: Gender and 'Sowlehele' in Middle English Allegory
(Ohio State Press, 2009)
---
Body versus soul was a frequent debate in medieval allegory. According to Raskolnikov, these debates were a way of thinking about psychology, gender, and power in the Middle Ages. Works of sowlehele ("soul-heal"), which were neither theological nor medical, described the self to itself in everyday language, much like today's self-help writing. The author connects contemporary feminism, queer theory, and medieval psychology as she examines Piers Plowman, the thirteenth-century Katherine Group of texts praising virginity, and the history of psychological allegory and debate.
The Care of the Dead in Late Antiquity
(Cornell University Press, 2009)
---
Scholars of early Christianity have argued that the Church owned and operated burial grounds for Christians as early as the third century. Rebillard challenges these and other long-held assumptions about early Christian burial customs. Exploring primary sources such as legal codes, theological works, epigraphical inscriptions, and sermons, Rebillard finds little evidence that early Christians occupied exclusive or isolated burial grounds. The book brings a new perspective to the role of the Church during late antiquity.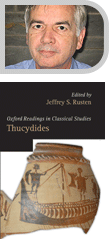 Thucydides
(Oxford University Press, 2009)
---
Thucydides gave us the first great work of political history—a perpetually fundamental text for political science and international relations—with his magisterial account of the war between Athens and Sparta. In this collection of essays, Rusten brings together classic and influential studies of Thucydides that are frequently cited but not always accessible. The collection's aim is to accompany, instruct, and stimulate modern readers of Thucydides.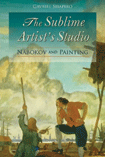 Sublime Artist's Studio
(Northwestern University Press, 2009)
---
Shapiro presents an in-depth and detailed study of the relationship of the visual arts to the work of Vladimir Vladimirovich Nabokov, who aspired to become a landscape artist in his youth. He examines Nabokov's literary legacy of poetry, short prose, novels, plays, memoirs, lectures, essays, interviews, and letters to reveal the function of landscape in the author's writings, Nabokov's lifelong fascination with the Old Masters, and his relationship to contemporary artists. The book offers a new approach to the study of Nabokov.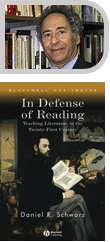 In Defense of Reading: Teaching Literature in the Twenty-First Century
(Wiley, 2008)
---
Schwarz probes why we read, how we read, and what we learn from reading literature. Employing his 40 years of teaching experience, he explores the life of the mind, the rewards of committed teaching, and the relationship between teaching and scholarship in the contemporary university, as well as issues and problems in today's university. The book also features insightful and important readings of texts by Joyce, Woolf, Conrad, Forster, Gordimer, and many others.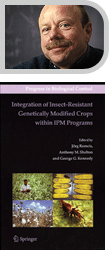 Integration of Insect-Resistant Genetically Modified Crops within IPM Programs
(Springer, 2008)
---
With chapters on recent research and on social, political, and economic issues that surround genetically modified (GM) crops, this book aims to contribute to a more rational debate on the role that GM technology can play in integrated pest management (IPM) for food and fiber production. Providing an overview of insect-resistant GM plants—including corn, cotton, rice, eggplant, cabbage, and cauliflower—in different crop systems worldwide, the work reveals the importance of GM crops to an IPM system for sustainable farming.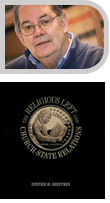 The Religious Left and Church-State Relations
(Princeton University Press, 2009)
---
Shiffrin examines constitutional law and political discourse on a broad range of issues related to church-state relations. Shiffrin argues that the religious left—not the secular left—is best equipped to lead the battle against the religious right on questions of church and state in America today. He covers topics such as school vouchers, the teaching of evolution in public schools, religious symbols in government, the pledge of allegiance, and state funding of religious institutions. Shiffrin maintains that a strict separation between religion and the state benefits both religion and government.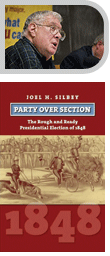 Party over Section: The Rough and Ready Presidential Election of 1848
(University Press of Kansas, 2009)
---
Silbey examines the presidential campaign of 1848: a three-way race, with the new Free Soil Party challenging the Whigs and Democrats. The campaign capped a decade of political turmoil, raising the issue of slavery to unprecedented prominence. The book describes the tumultuous events of the election and explains the outcome, which put war hero and Whig Party candidate Zachary Taylor in office. The book concludes that, although Taylor would serve for just 16 months, 1848 nonetheless stands as an important harbinger of political change to come.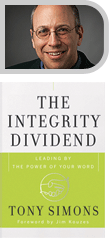 The Integrity Dividend: Leading by the Power of Your Word
(Jossey-Bass, 2008)
---
Simons shows how leaders' personal integrity drives the profitability and overall success of their organizations. Based on his research, he reveals that businesses led by managers of higher integrity have deeper employee commitment, lower turnover, superior customer service, and substantially higher profitability. This improved performance is the "integrity dividend." The book presents the research and offers tools to help managers achieve the integrity dividend.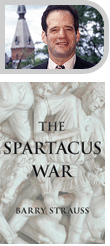 The Spartacus War
(Simon and Schuster, 2009)
---
This dramatic account of the most famous slave rebellion in the ancient world is the result of years of research. The book is based on written documents, archaeological evidence, historical reconstruction, and the author's extensive travels in the Italian countryside that Spartacus once conquered. It reveals new evidence on the slave rebellion, the rebels' tactics, and their ultimate defeat. Reviewers describe the book as "a page-turner and an eye-opener," challenging the myths surrounding Spartacus, who has been immortalized in literature and films.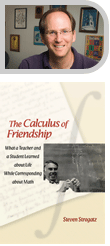 The Calculus of Friendship: What a Teacher and a Student Learned about Life while Corresponding about Math
(Princeton University Press, 2009)
---
This book tells the story of the connection between a high-school calculus teacher and his star student—Strogratz himself—as chronicled through more than 30 years of letters. The relationship between the two is unique, because it is based almost entirely on their shared love of calculus. Calculus for them is a game they enjoy playing together, as well as a constant when all else is in flux.
Southeast Asia and the Middle East: Islam, Movement, and the Longue Durée
(Stanford University Press, 2009)
---
Tagliacozzo assesses the significance of the more than 700-year connection between Southeast Asia and the Middle East, as he explores the political, economic, familial, educational, and religious bonds of these areas, both historically and in the contemporary world. Called a timely book with a "breath-taking scope," it shows how interactions between the two regions have shaped their character and will continue to influence political and economic relations, migration patterns, dissemination of knowledge, and Islamic militancy.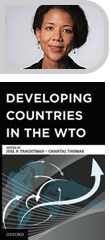 Developing Countries in the WTO Legal System
(Oxford University Press, 2009)
---
A comprehensive volume on the position of developing countries within the World Trade Organization (WTO) system, Thomas' work reflects on the groundbreaking book, Developing Countries in the GATT Legal System, by Robert E. Hudec, which argued against preferential and nonreciprocal treatment for developing countries. The author, with contributions from leading experts in international trade, law, and economics, evaluates developing countries in the WTO, examines market access and competition law, and discusses the countries' special arrangements with international financial institutions.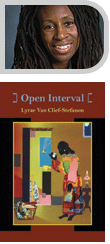 Open Interval
(University of Pittsburgh Press, 2009)
---
This collection of poetry uses the intersections of astronomy and mathematics, history, literature, and lived experience as a framework. The book was nominated for a 2009 National Book Award and named a finalist for the 2009 Los Angeles Times Book Prize in Poetry.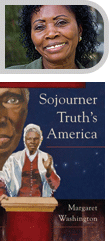 Sojourner Truth's America
(University of Illinois Press, 2009)
---
This biography of nineteenth-century activist Sojourner Truth separates fact from myth and brings into view the realities and scope of African American slavery and America's most significant reform era. The book examines the dynamics of Truth's times, Truth's early life as a slave, and her ascent as a charismatic preacher and political orator despite her inability to read and write. Washington delivers meaningful insights into the turbulent cultural and political climate of this period in American history. The book has been honored as the winner of the inaugural 2010 OAH Darlene Clark Hine Award and co-winner of the 2009 Letitia Woods Brown Memorial Book Award.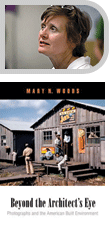 Beyond the Architect's Eye: Photographs and the American Built Environment
(University of Pennsylvania Press, 2009)
---
Woods explores how amateur and professional photographers used the camera to record architectural structures of a diverse American landscape—New York City, Miami, the rural South—before World War II. The work reflects a time when the differences between rural and urban man-made landscapes and these regions' associated cultural shifts increased, in step with massive industrialization in U.S. cities. Woods considers the work of Alfred Stieglitz, Frances Benjamin Johnston, Marion Post Walcott, Berenice Abbott, Helen Levitt, Alice Austen, Eudora Welty, Walker Evans, and others. The book melds histories of American art, cities, and architecture with visual studies of landscape, photography, and cultural geography.
› Top