---
Laboratory Animal Medicine Residency Program
Cornell Center for Animal Resources and Education (CARE) Residency Program in Laboratory Animal Medicine
The objective of this residency program is to train graduate veterinarians for a career in laboratory animal medicine, research, and service, by providing them with the knowledge and experience necessary to achieve certification by the American College of Laboratory Animal Medicine (ACLAM).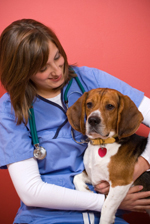 As outlined in the ACLAM Role Delineation Document, the resident will receive training to advance the humane care and responsible use of laboratory animals. These skills include:
Prevent, diagnose, control, and treat disease
Prevent, alleviate, and minimize pain and distress
Provide research support, information, and services, including biomethodology, anesthesia and surgical methods, knowledge of animal welfare issues, and sources of information
Develop knowledge of animal husbandry programs, including species-specific considerations, occupational health and safety concerns, regulations and standards pertaining to lab animal care and fiscal and personnel management, as well as principles of animal facility operations and facility design
Execute IACUC Veterinary responsibilities, including knowledge of the pertinent laws and regulations, protocol review, and facility inspections
Provide consultation on the appropriate care and use of animals, development of animal models, experimental techniques, and use of the 3 Rs in conducting research
Design and conduct independent or collaborative research
This program has the advantage of being situated at a large campus with a diverse range of animal species and research interests. The College of Veterinary Medicine is a rich source of expertise in fields of both biomedical and veterinary research. A unique feature of this residency program is the agricultural animal component. In laboratory animal medicine, there is a dearth of veterinarians trained in the clinical practice and management of agricultural species, as well as being well-versed in the regulatory and compliance issues. This unique combination of training and expertise will help to fill a void in the laboratory animal medicine field.
The residency is structured to be a 3 year program. Throughout the program, residents will focus on clinical medicine and surgery, facility management, and regulatory and compliance issues. By the end of the first year, residents have had a chance to explore different options for pursuing a research interest. They will establish a research project under the mentorship of an experienced investigator that will allow the resident to be first author on a scientific paper. Successful completion of the residency will be determined by the faculty. A certificate of completion will be awarded to the resident. Opportunity also exists to obtain a Masters Degree in the field of Comparative Biomedical Sciences.
Please see the links to the left for the published advertisement.
Questions or comments? Contact Dr. Mary Martin at (607) 253-3520 or mem235@cornell.edu.
---